Date: February 16th 2021 18.30-20-30
Register (closed) : Internet Theatre
View Recording: Internet Theatre
—
A panel of academic-practitioners will discuss theatre and performance pieces produced for the internet.
The Covid-19 pandemic has forced theatre-makers to produce work online. In distinction from streaming live and recorded shows, theatre and performance produced for the internet represents a new frontier for artists.
Shows such as Forced Entertainment's End Meeting For All frame the grid of screens on Zoom as a collage of encounters between six connected yet distant bodies, each one inhabiting a reality that never fully converges into a communal experience, whilst Dead Centre's To Be A Machine turns the audience into data subjects by having them present as recorded video footage and as viewers watching the performance as a live stream on Vimeo. Other examples of internet theatre include Gob Squad's Show Me A Good Time, New Diorama and Nathan Ellis's work_txt_home, Coney's Telephone, and Dante Or Die's USER NOT FOUND.
This webinar has been organised to begin developing new discourses of 'the digital' beyond questions of liveness and ephemerality to explore how the internet has become a performance medium in its own right. The panel will explore ideas relating to the spectator as a data subject, digital intimacy, and writing plays and devising shows for performance in cyberspace with reference to pieces produced during the lockdown.
DocPerform is an interdisciplinary project based in the Department of Library and Information Science at City, University of London. DocPerform investigates new and emerging documentation technologies used in the performing arts, the performativity of digital information, and concepts of theatricality and unreality as they relate to the contemporary information environment.
Panel:
Elena Araoz
Elena Araoz is a stage director of theater and opera, as well as a writer, choreographer, and performer. She works internationally, Off-Broadway, and across the USA. She is a faculty member in the Program in Theatre at Princeton University. This summer, she will direct the live virtual CGI and motion capture opera Alice in the Pandemic (White Snake Projects) and a virtual production of Virginia Grise's a farm for meme (Cara Mia Theatre). In this time before her currently postponed productions return to their stages, this research project is fueled by Elena's passion for innovation in the theatre. She is particularly interested in developing systems to redistribute resources and opportunities within the field and democratize theatre making and consumption. She also hopes that this research will unlock new structures of storytelling for her. Elena holds her MFA in acting from the University of Texas at Austin. http://www.elenaaraoz.com.
Jo Scott
Jo Scott is an intermedial practitioner-researcher and senior lecturer in performance at the University of Salford. Following the completion of her practice as research PhD project at the Royal Central School of Speech and Drama in 2014, Jo has developed both practical and theoretical research in the area of intermedial performance, addressing in particular the intersection of digital computational processes and live performance practices. Her first monograph, Intermedial Praxis and PaR, was published by Palgrave Macmillan in 2016 and she has also contributed writing to a range of recent books and journals. Jo's current practice as research project engages digital technologies in creative encounters with wild urban spaces, through live mixing practices, combining video, text, sound and song. See http://www.joanneemmascott.com for publications, projects and documentation.
Harry Robert Wilson
Harry graduated from Theatre Studies at the University of Glasgow in 2008 and has since completed an MPhil and PhD through creative practice at the university (co-supervised at DJCAD, University of Dundee). Harry's practice sits between live art, contemporary performance and new media and often involves methods of devising through creative response. In his work Harry is interested in exploring the politics of affect and emotion, autobiography, memory, time and the body. Harry has shown work at a number of venues and festivals across the UK including The Arches; the Citizens Theatre, Glasgow; Forest Fringe, Edinburgh; DCA, Dundee; BAC, London; and internationally at Defibrillator Gallery, Chicago and Kilowatt Festival, Sansepolcro. Harry's research is often practice-based and generally explores the intersections between performance, media and philosophy – from photographic performances (via Roland Barthes), to virtuality and perception in VR.Harry is an associate artist with Glass Performance and has collaborated with Untitled Projects, Cora Bissett, and Magnetic North, amongst others. Between 2018 and 2019 Harry was Digital Thinker in Residence at the National Theatre of Scotland, an AHRC funded artistic research residency supported by the University of Glasgow. Harry has taught theatre, performance and digital art at the University of Glasgow, University of the West of Scotland and the Royal Conservatoire of Scotland.
Moderator:
Joseph Dunne-Howrie
Joseph is an academic whose research specialisms include immersive and interactive theatre, archives and performance documentation, intermediality, autobiographical theatre, the politics of audience participation, site-based performance, and the media performativity of contemporary fascism. He is a long-term collaborator with the theatre and digital arts company ZU-UK. He was awarded a PhD from the University of Lincoln in 2015 for his practice research thesis Regenerating the Live: The Archive as the Genesis of a Performance Practice. Since then he has taught drama at postgraduate and undergraduate levels at Rose Bruford College, Mountview Academy, and the University of East London. Joseph currently splits his time as the MA/MFA module year co-ordinator for Performative Writing/Vade Mecum at Rose Bruford and as artist in residence in the Library and Information Science department at City, University of London where he is one of the leaders of the DocPerform project. He has published articles in Performance Research, Desearch, Stanislavski Studies, International Journal of Performance Arts and Digital Media, Proceedings from the Document Academy and Drama Research. See his website for more details about his work josephdunnehowrie.com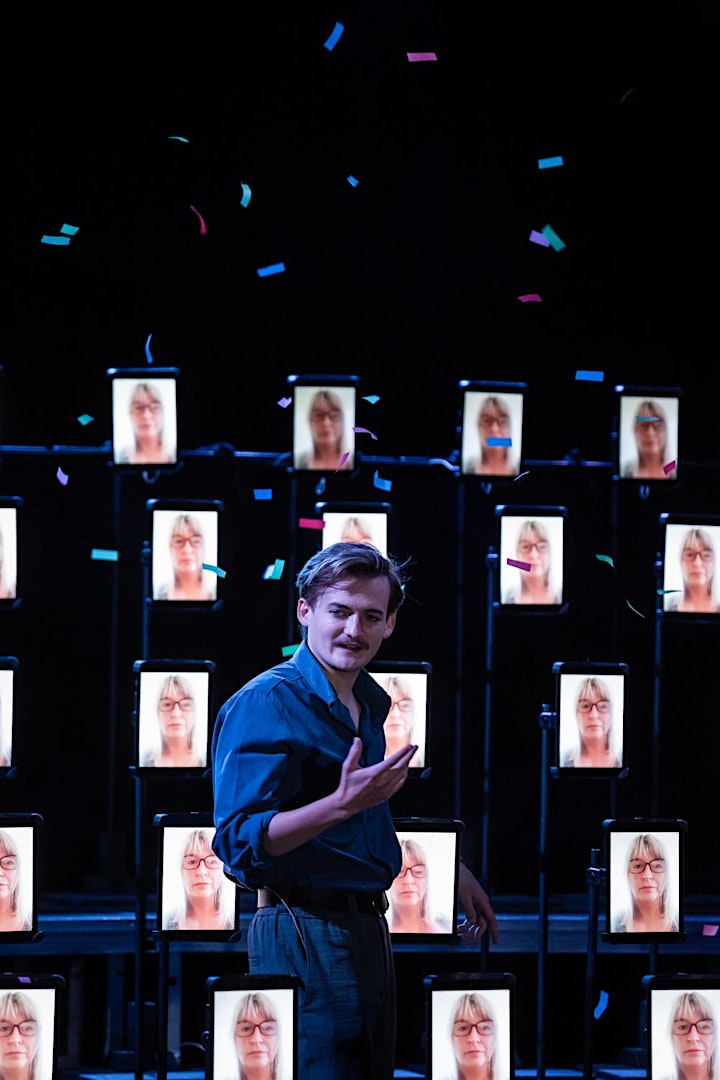 To Be A Machine by Dead Centre (2020)